Head of Digital Publishing and Pedagogy
As the Coordinator for eLearning & Open Educational Resources (OER), I provide support for faculty members who are interested in finding ways to improve textbook affordability for UO students through adopting, adapting or authoring free and low-cost course materials. I am also an instructional designer and can provide support for faculty as they redesign their course to incorporate open educational resources. 
Get in touch with me through Microsoft Teams.
I Can Help With
finding and evaluating open educational resources
understanding open licenses, copyright, and fair use
publishing an openly licensed textbook
backwards design and student-centered learning
educational technology and technology-enabled learning experiences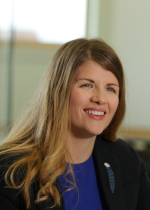 Data, Access, Research, and Teaching Services
Subject Areas:
Instructional Design/eLearning
Open Educational Resources
Textbook Affordability