Applications Development and Integration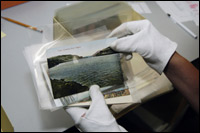 Location
Physical address: 1501 Kincaid Street, Eugene, OR 97403 
Mailing address: 1299 University of Oregon, Eugene, OR 97403
Collections and Discovery Services (CDS) is responsible for acquiring, describing, preserving, and disseminating all types of scholarly and creative outputs to advance the research, teaching, and learning work of the University of Oregon community. CDS offers a range of reference, consulting, and instructional services to the users and creators of these collections. CDS encompasses three major areas: Cataloging, Metadata and Preservation Services, Collections Strategies, and Digital Scholarship Services. CDS endeavors to build strong partnerships, within the UO Libraries and with regional partners, to be a leader in advancing practice, and to contribute with increasing effectiveness to local, regional, and international resource collection and curation efforts.
Functional areas supporting this work include:
Acquisitions: Acquires materials for the Libraries' collections
Cataloging: Provides description and access in order to promote the discovery of library resources
Electronic Resources: Provides access to online resources
Processing and Preservation: Prepares newly acquired library materials, and repairs and conserves existing materials
Digital Research, Education, and Media (DREAM) Lab: Facilitates collaboration and educational opportunities for faculty and graduate students working on digital scholarship and public-facing research and pedagogy projects.
Reproduction and Preservation: Supports the reformatting and digital preservation of library resources.
The mission of Collections Strategies and Cataloging, Metadata, and Preservation Services is to provide good public service through enabling our users to access the Libraries' collections, which include print journals and books, e-journals and e-books, databases, music recordings and scores, and audio-visual materials. We define the policies and procedures necessary to produce responsive, high-quality patron access to this ever-growing array of materials available through traditional and emerging systems. We endeavor to build strong partnerships within the UO Libraries and with our regional partners, and to contribute with increasing effectiveness to local, regional, and international efforts to describe resources and preserve them.
Digital Scholarship Services supports faculty members and students in transforming research and teaching using new media and digital technologies. Based on a foundation of scholarly communication, access, sharing, preservation, and evidence-based pedagogical practices, Digital Scholarship Services provides digital asset management, digital preservation, training, consultations, instructional design, and tools for digital scholarship, teaching, and learning.