There are several spaces in the Price Science Commons dedicated to hands-on learning and learning with technology
Visualization Lab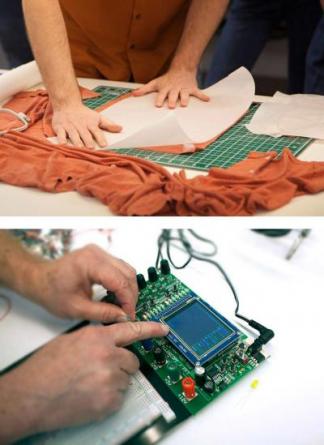 The Visualization Lab is available to UO faculty, GTFs, and others who need high-resolution images on a big screen for research or instruction, or for videoconferencing, or who would like to make use of the room's capacity to display material from multiple inputs side by side. In Fall 2021 we added three large single-monitor displays to complement the high-resolution wall in order to better support instructional use of the space. 
Please note that advance reservation is required because we'll need to authorize access to the room's computers and work out any special software needs in advance of your use.  Here is the room calendar.
DeArmond MakerSpace
The MakerSpace is available to the UO community -- faculty, students, staff -- for creating objects using 3D printing; the router; the sewing equipment; the cutting equipment; and/or the electronics.  Workshops and trainings are held frequently, and are required before some of the equipment is available to individuals. More information about the MakerSpace, training, and reservations is available on the MakerSpace page.
David Baker Memorial Video Game Collection
The library has a robust collection of video games going back several years, and a handful of gaming consoles which circulate to UO students and employees.  More information about the collection is available on the video games page.
RAVE Lab
Reality Augmentation and Virtual Experiences: we have AR/VR equipment and space, and some limited availability to train users on how to use it.  More information in our guide to the space.
Coming Soon! The gaming center!
Stay tuned; gaming center coming late 2023!