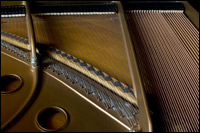 Location: Knight Library, Third Floor
(541) 346-3079
About the UO Libraries Music Collection
The Music Collection, one of the largest in Oregon, brings together all the resources music scholars need in one location. The collection consists of over 40,000 music scores and parts (including instrumental methods books), 225 bound and unbound periodicals (serials, magazines, annuals, etc.), and 30,000 books on music. The Music Reference Collection supplies the tools of bibliographic and performance research, including scholarly dictionaries and encyclopedias on all types of music, published research bibliographies and repertoire guides for various instruments and ensembles, published discographies, critical score editions (including numerous complete works editions for individual composers and many collected works/Monuments of Music editions focusing on specific regions, style periods, or genres), and guides to writing about music. Areas of special collecting focus in the Music Collection include music by women and music by Oregon musicians.
In addition to the print resources described above, the Music Collection also comprises a variety of electronic resources, including e-books and e-journals, research databases for locating published music scholarship and digitized primary sources, and databases of streaming audio and video content. Digital resources currently available through the UO Libraries' web site that are relative to listeners and musicians include the Digitized Historic Sheet Music Collection site, which provides digitized copies of sheet music from our collection, including the Oregon Sheet Music Collection and the Women Composers Collection.
Additional resources for music are microfilm copies of older magazines and journals, as well as music resources published only in microfilm form, which are located in Microforms.
The Douglass Room
The Douglass Room houses over the Knight Library audio collection, comprising 19,000 compact discs, nearly 30,000 LP records, and about 2,500 cassette tapes. In addition, this room houses the library's Historic Sheet Music Collection. Other features include 4 audio listening stations, 5 Creative Musicians' Workstations computers, the Music Reference desk, a 20-seat reservable seminar classroom, a study lounge area, and 2 recording and audio production studios.
Special Music Collections
The Music Collection is home to one archival collection, the Historic Sheet Music Collection, comprising roughly 26,000 pieces of commercial popular and light classical sheet music published between 1830 and 1960.  Approximately 1200 of these pieces have been digitized and are free to view and download from the Digital Sheet Music Collection.
All other archives of musicians and music-related primary sources are housed in the Knight Library's Special Collections and University Archives Department. A selected list of UO's music manuscript collections may be found in the research guide to Arts, Architecture & Literature in Special Collections Collections of particular note include: