Journalism, Communication, and Digital Literacy Librarian
Talia Paz is the Journalism, Communications and Digital Literacy Librarian at the University of Oregon. She is the primary liaison for the University of Oregon's School of Journalism and Communication. 
Talia received a Bachelor's degree in Communication from Griffith University, Australia and worked as a Journalist, Editor and Marketing Executive for several years before relocating to the United States and earning her Master's degree in Library and Information Science from the University of North Carolina, Greensboro (UNCG). She worked as a Research, Outreach and Instruction Assistant at UNCG's Jackson Library for 2 years before relocating to Eugene, Oregon in August 2023.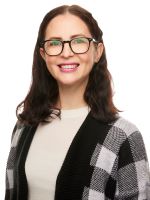 Data, Access, Research, and Teaching Services
Mailing Address:
1299 University of Oregon Eugene, OR 97403-1299
Subject Areas:
Journalism and Communication
Public Relations and Advertising Research