Manager, Science and Design Libraries
UO grad (1991) and former classified staff (1991-2000) so I don't know if this makes me some kind of multiplicity of ducks or what.
Fan of superheroes real and imagined, ideas, collaboration, inclusion, and chocolate.  Not a fan of systems of oppression, rules that deliberately or accidentally support exclusion, or coconut.  Interested in the notion that everyone deserves accurate, timely information presented in a manner which supports their needs and growth and which does not suggest prior ignorance is a defect.(Not interested in paywalls or teaching by shame)
Has presented at conferences on inclusion topics such as making spaces and services welcoming to fat bodies, neurodivergent users, and novices.
Teaches little old lady aerobics and other group exercise all over town, and feeds and supports an ungrateful cat at home.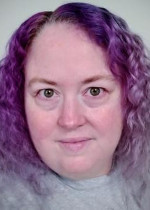 Allan Price Science Commons and Research Library
Data, Access, Research, and Teaching Services
Mailing Address:
1344 Franklin