Research Data Management and Reproducibility Librarian
Gabriele Hayden leads workshops and consults with students, faculty, and researchers on research data management, sourcing and sharing data, and best practices in computational reproducibility. You can read more about her work consulting with students, researchers, and faculty in this profile of the Data Services Department and this profile on the DH@UO blog. She discusses the relationship between her training in English and her current data work in an interview with Prof. Paul Peppis for UO Today (YouTube or SoundCloud). Gabriele earned her PhD in English Literature from Yale University and her BA in English from Reed College. She has worked with open source software and enterprise database reporting in the non-profit and private sectors.
Many of Gabriele's presentations are available as recordings online. In "The Cultural Meaning of Programming Languages," she discusses how gendered stereotypes about programming languages used to exclude people parallel similar dynamics in literary history. She has also discussed the possibilities and limits of using Docker environments in your research and strategies for inclusion in data literacy programming. She once had a poem published on Tri-Met busses in Portland, OR.
Selected Publications
Gabriele Hayden, Franklin Sayre, Vicky Steeves, and Tisha Mentnech. "Supporting Reproducible Research," In Open Data, edited by Brianna Marshall. Part of Scholarly Communication and Open Culture, an openly-licensed, IMLS-funded book edited by Josh Bolick, Maria Bonn, and Will Cross. American College and Rresearch Libraries. Forthcoming 2023. Post-peer review draft.
Ki, Eyun-Jung, Tugce Ertem-Eray, and Gabriele Hayden. "A Bibliometric Analysis of Relationship Management as a Scholarly Field from 1997 to 2022." Public Relations Review 49, no. 1 (March 2023): 102286. https://doi.org/10.1016/j.pubrev.2023.102286.
Kate Thornhill and Gabriele Hayden. "Making File Names for Digital Exhibits." Data Literacy Cookbook, edited by Meryl Brodsky and Kelly Getz. American College and Research Libraries. 2022. Post peer-review preprint DOI: 10.7264/ewzj-sh59.
Michael Aronson, Elizabeth Peterson, and Gabriele Hayden. "Local Cinema History at Scale: Data and Methods for Comparative Exhibition Studies." Iluminace: Journal for Film Theory, History, and Aesthetics vol. 34, no. 2, June 2022, pp. 73–100. www.iluminace.cz, https://doi.org/10.58193/ilu.1733. Data and code DOI: 10.7910/DVN/6WOQPO.
Aronson, Michael, Elizabeth Peterson, and Gabriele Hayden. "Oregon Theater Project: A Dataset of Oregon Cinemas from the Silent Era." Journal of Open Humanities Data 8, no. 0 (December 12, 2022): 27. https://doi.org/10.5334/johd.92.
Grants
Powering Digital Humanities Teaching and Learning with Static Web Approaches, funded by the National Endowment for the Humanities Digital Humanities Advancement Grants program, supported the creation of curricular modules to help teach data and digital literacy skills using CollectionBuilder static web technology. (Sub-award. Co-Principal Investigator at UO, 2021-2022)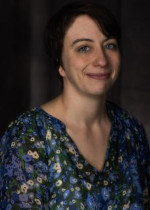 Office:
136 Knight Library
Mailing Address:
1299 University of Oregon Libraries, Eugene, Oregon 97403-1299
Subject Areas:
Data Management
Data Services
Languages:
French
German
Portuguese
Spanish