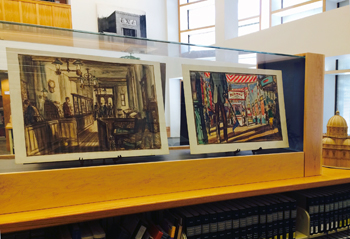 Illustration: Set designs by Carl Heilborn, from Design Library collections,on display Summer 2014.
Scope and Content
The collections of the Design Library primarily support academic programs associated with the College of Design. In addition to the library's 86,000 bound volumes, holdings include architectural drawings, photographs, electronic resources, and theses and terminal project reports. The Library holds about 2,700 periodical titles including approximately 350 current subscriptions.
While the Design Library is the university's primary location for architectural and visual arts research, significant related holdings are located elsewhere on campus. Most notably, Knight Library holds more than 22,000 art and architecture books and journals. Materials throughout the UO Libraries can be found through the Libraries' online discovery resource, LibrarySearch.
Access and Checkout
Important - Please refer to the UO Libraries Borrowing page for the most recent policies.
Most books and periodicals in Design Library are housed in publicly accessible open stacks. These materials are arranged by Library of Congress call numbers on the library's second (mezzanine) and third floors. They generally circulate according to the library system's borrowing policy. Materials that must be requested from staff at the checkout desk are course reserves, architectural drawings, rare books, archival slides, artist's books, and remote storage items.
Items on course reserves have shortened loan periods. Any other cataloged materials with limited or restricted loan conditions will be indicated as such in LibrarySearch.
Special Sections and Formats
The Design Library has some materials located in separate sections because of purpose or format. These sections, and materials of particular interest, are described below.
Architectural drawings
The Design Library's drawings collection consists primarily of works associated with the College of Design. Consult this finding aid for a description of historic student drawings. The library does not hold plans of campus buildings. The official repository of 'as-built' UO building plans is the Facilities Services design office which provides services for consultation and reproduction of drawings. The UO Libraries's Special Collections & University Archives department maintains several unique collections of architectural archives, photographs, and drawings and staff there should be consulted about holdings and access.
Artists' books
The library holds over a thousand artists' books which chiefly represent the work of Pacific Northwest artists. 
Oversize materials
Oversize books and periodicals in the general collection are located on the main floor of the library.
Periodicals
Most unbound current periodicals are shelved in Design Library's periodicals room adjacent to the reading room. Bound periodicals are located in the library's open stacks arranged by call number unless they have been located to oversize, reference, or secure collections for reasons of value, format, or purpose. Specific journals can be located using LibrarySearch, the UO Libraries catalog.
Rare books and periodicals
The Rare Books Collection includes rare or valuable books and journals. Many were purchased through the Marion Dean Ross Endowment. All items in the collection are listed in the online catalog. Materials in this collection may be requested for use in the library.
Reference
Located on the main floor of the library, this collection contains dictionaries, encyclopedias, manuals, and other reference publications of interest to the arts and architecture community. Most reference materials are circulate with limited loan periods.
Reserves
Reserve materials are required readings for courses and have shortened loan periods. Course reserves include syllabi, books, lecture notes, journal articles, class assignments, sample tests, and other relevant information to support classroom instruction. Items on reserve and their call numbers can be found by consulting the online reserves catalog accessible in LibrarySearch. Course reserve materials can be checked out from the Design Library service desk.
Slides
About 140,000 archival slides representing original photography of architectural works are located in the library's special collections.
Storage
Due to space constraints, some Design Library books are located in storage. These materials can be requested through the library catalog. Paged materials will be available at the circulation desk of your choice in 1-3 days.
Theses, student reports, projects
Terminal project reports for most departments in the College of Design have been collected by the Design Library. Titles can be identified in LibrarySearch, the UO Libraries catalog. Older projects are stored and will take at least a day to retrieve. Dissertations, theses, and terminal projects can be identified in the LibSearch by author, subject, etc. Use the "Limit search to... UO theses" function to refine search. Many of these works are now available online in Scholars Bank, the University of Oregon repository.
Media: DVDs, CDs, etc.
The Design Library houses some DVDs and CDs. However, most digital media are located in Knight Library and may be identified through a search in the library catalog. The UO Libraries catalog (LibrarySearch) identifies holdings in these formats and their library locations.