Special Collections and University Archives (SCUA) uses ArchivesSpace to manage and provide detailed information about our unique collections. This discovery tool enables researchers to browse, search, and filter across all of our unpublished materials (manuscripts, photographs, architectural drawings, audiovisual items, and university archives). Guidance is available on our help page, or by emailing our reference department.
All of our rare books and published materials can be searched via the UO Libraries catalog.
Requesting Materials
Each of our collection guides (aka finding aids) on ArchivesSpace contains physical storage information to assist researchers in identifying boxes of materials relevant to their subject. In the example below, the physical storage information module lists this material in Box 17, Folder 8. Some material may span several folders and/or several boxes.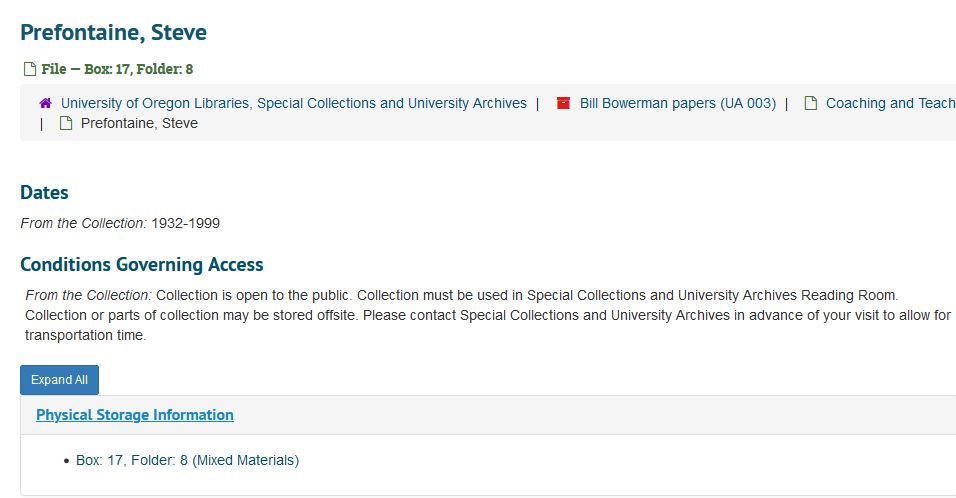 Each finding aid contains a request button in the upper right hand corner. This button links directly to the collection record in the UO Libraries catalog.
In order to request materials, researchers must have a library account. UO faculty, staff, and students can login to their account using their Duck ID. The general public can apply for an account following these registration instructions.
Please review our detailed instructions about how to request materials via the UO Libraries catalog. Requests must be placed at least 5 business days in advance. You will receive an email confirmation once your material(s) are successfully retrieved and ready for viewing in our reading room during our open hours.
Additional Resources for Finding Primary Sources
Archives West to search for primary sources held at repositories in the western United States
ArchiveGrid to search for primary sources held at repositories in the United States and around the world.