All Special Collections and University Archives materials must be requested at least 5 business days in advance (but no more than 3 weeks) of an intended research visit using the UO Libaries catalog. You will receive an email notification after each requested item is successfully retrieved indicating availability for research.
Materials are kept on hold for 1 month, and researchers will receive expiration notices in advance of materials being reshelved. Researchers can renew items in their library account.
Patron Account
Sign in to your patron account by clicking on "Sign in to LibrarySearch," or clicking the large green Sign in button.


Information on library accounts for UO and non-UO researchers can be found on our registration page.
If you are a UO-affiliated user, sign in with your Duck ID credentials.
If you are a non-UO registered user (includes Oregon Card), click the registered guest borrowers option, and sign in with your Library ID credentials.
If you have successfully logged in, you will see your name in the upper right-hand corner of the screen.
Requesting Items
If you are requesting a book, click on the Request UO item link under request options.

If you are requesting boxes from a collection (manuscripts, archives, photographs, architectural drawings), the Request UO Item link will be beside the box number. After requesting a box, you may need to "refresh services list" in order to request additional boxes. You must request each box individually. For larger collections, you may use the filter button (next to the locate button) to filter by description (box number).
Requesting UO Item:

Filtering by Description: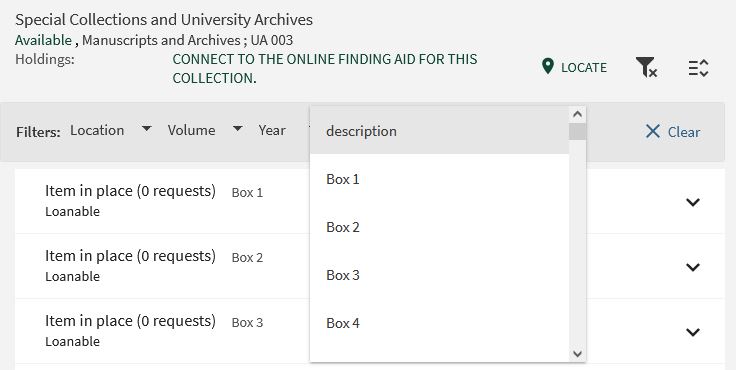 The catalog record contains a link to each collection's finding aid. See "Connect to the online finding aid for this collection". This will open up the collection guide (or finding aid) from our collections database. This link is useful to for identifying the contents of specific boxes.

Finalizing A Request
In the comment field, please list your intended research visit date(s). Complete your request by clicking the Request button. You will receive an email notification for each requested item once the materials are available for research.