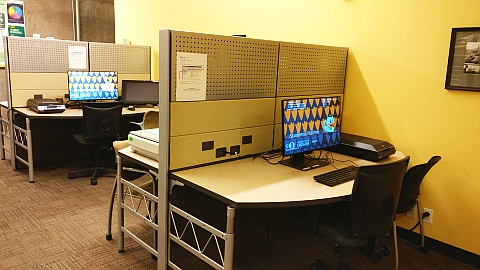 Workstations
The UO Portland Library & Learning Commons provides two iMacs and four Windows PCs with large monitors and access to the pay printer system. These workstations are restricted to the UO community with active Duck IDs.
These workstations include standard productivity, design, and mapping software. In addition to the standard suite of software, these stations include AutoCAD, AutoDesk Revit, and Rhino. UO Portland students will also find lab-configured computers located throughout the library with additional course-related software. For more details review the available software and learn about remote access to the virtual lab.
Connected equipment includes a pen tablet (Wacom Cintiq 21UX), large format flatbed scanner (Epson GT-15000), and Epson photo scanners (V600, V850) with film guides.
Public Kiosks
Two Internet workstations provide access for visiting researchers and community users. The UO Library catalog, most databases, and the general Internet are available from these workstations. There is a 30-minute limit for non-research use.
Guest Wireless Access
Faculty, staff and students affiliated with OHSU, Oregon State University, Portland State University, and other eduroam partner institutions can use their account from their home institution to login to the UO wireless network. Visiting researchers and community users may connect their personal devices to the UO Guest wireless. 
Geographic Information Systems (GIS)
The UO Libraries provide access to ArcMap/ArcGIS and a variety of datasets, available for download. ArcMap/ArcGIS is installed on the library's academic workstations and is available for download on student Windows computers. For further information, see the page on GIS services, or contact UO Libraries' Map and Aerial Photography Library.