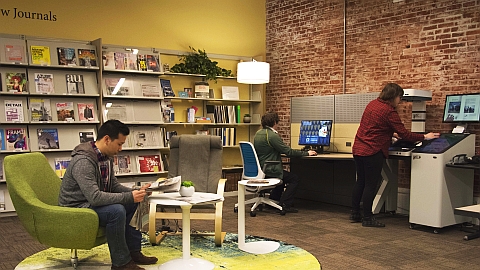 Printers and Copiers
Library and departmental printers, copies and scanners exist throughout the UO Portland campus. We have a Xerox multifunction printer that can print 8.5 x 11" (letter), 8.5 x 14" (legal) pages, and 11 x 17" (tabloid) pages. Black-and-white printing costs 8 cents per letter or legal sheet (single or double-sided) and 16 cents per tabloid sheet. Color printing costs 25 cents per side for letter and legal paper and 50 cents per side for tabloid pages (Duck Bucks only).
Our printer doubles as a photocopier at the same printing rates (Duck Bucks only).
UO affiliates can print from their own laptops by following the instructions to connect to any of the three Portland pay printers. Pay printers and release stations are located in the Library (WSB 172), Law suite (WSB 242) and 5th floor (College of Design, south side).
The library service desk cannot accept cash for printing or copying. You can add Duck Bucks to your UO ID card or to generic Duck Bucks cards available at the Duck Store sold in preloaded amounts ($5, $10, $15 and $20) plus a $1 charge for the reusable card.
To add Duck Bucks to a card, log into DuckWeb or the Duck Bucks website (users with UO IDs only) or call the UO Card Office during regular business hours and use a credit or debit card with the Visa logo. The toll-free number for the Card Office is 1-877-877-4635.
Output Room Services
The Output Room is located on the 5th floor of the White Stag block. This service desk is open to the UO Portland community and offers high-quality, mediated printing, wide-format printing to a variety of materials, large format scanning, vinyl cutting, binding, lamination and multimedia consultation.
Users must pay with Duck Bucks (see above for ways to acquire and add to a Duck Bucks account.)
Library Scanners
The library has several flatbed scanners with film guides for batch negative and slide scanning available to the UO Portland community. Each scanner is connected directly to one of the academic workstations.
All users are encouraged to bring a flash drive or to email scan files to themselves, as the content of the workstations is reset at logout.
The overhead book scanner (KIC Bookeye) can perform scans of bound materials at a range of sizes up to 16x24. Scans can be saved to email or USB in a variety of formats.
The Xerox multifunction printer/copier includes a document feeder for loose pages and is capable of scanning documents and delivering them through email or attached USB storage at no charge.