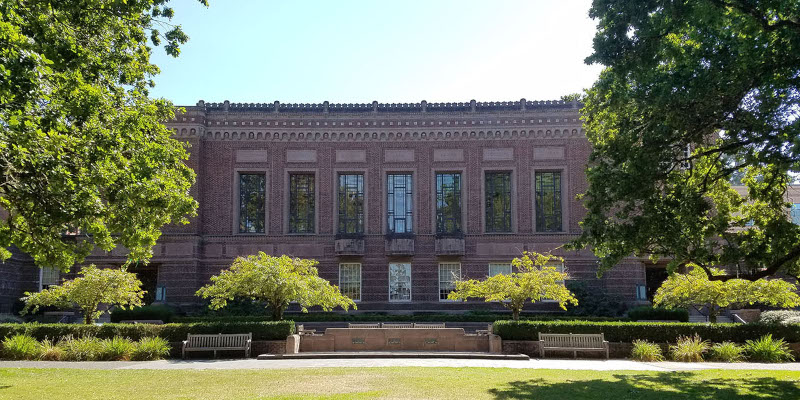 Location
Knight Library Room 121E
1501 Kincaid Street
Eugene, OR 97403-1299 
Google Map Link
Hours
Monday - Friday 7:30 a.m.-4:30 p.m.
Loading Dock Hours
Monday - Friday 7:30 a.m.-11:30 a.m. and  12 p.m.-3:00 p.m.
Staff
Amy Lake
Director of Facilities and Business Services
541-346-1829
amydlake@uoregon.edu
Doug Hodson
Building and Maintenance Coordinator
541-359-8517
dhodson@uoregon.edu
Beth Singler
Accounts Receivable/Payable
541-346-3040
bsingler@uoregon.edu
Matt Schneider
Warehouse Coordinator
mschnei8@uoregon.edu
Provided Services
Business Services
Library Business Services processes purchases and contracts for office supplies and equipment, furniture, technology hardware, software, industrial supplies, webinars and professional services.  We process accounts payables and accounts receivables.  We manage space and equipment inventory and surplus, statistics and various financial reports.  Our office coordinates with the offices of Purchasing and Contracting Services, Business Affairs, Budget and Resource Planning and Sponsored Projects Services.
Amy Lake
amydlake@uoregon.edu
541-346-1829
Beth Singler
bsingler@uoregon.edu
541-346-3040
Facilities Services
Library Facilities Services monitors the condition of the Knight Library and performs or coordinates maintenance, repair, safety and security services.  We coordinate building remodels, upgrades and moving projects.   Services include custodial, moving furniture, hanging art, painting, signage and vehicle maintenance.  Our office coordinates with Campus Operations, Campus Planning, Design and Construction, UO Police Department, and Safety and Risk Services.
libfacilities@ithelp.uoregon.edu
Doug Hodson
541-359-8517 (call or text)
Amy Lake
541-346-1829
Campus Operations
csc@uoregon.edu
541-346-2319 (After 4:00 P.M. contact UOPD non-emergency line 541-346-2919)
Mail Room Services
UO Libraries' mail room staff organizes incoming and outgoing shipments and deliveries from vendors, patrons, and libraries.  We perform a daily route to McKenzie Hall, Design, Science, Math, Law and Global Scholars Hall libraries.  We schedule office and heavy furniture moves and surplus property pickup.  We coordinate and maintain loading dock and warehouse activities and security. 
Address
1501 Kincaid Street
Knight Library
University of Oregon
Eugene, Oregon
Hours
Sunday Closed
Monday - Friday 7:30 a.m.-11:30 a.m. and 12 p.m.-3:00 p.m.
Saturday Closed
Library Building Problems?
If you feel a threat to your own person, or to the safety of others, call 9-1-1
For urgent service after normal business hours and on weekends, call the University of Oregon police non-emergency dispatch number: 541-346-2919.