Renovation
The Knight Library is the largest library facility in Oregon, holding collections with a replacement value of over $100 million. Approximately 1.85 million of the University Library's 2.4 million volumes are housed in Knight, along with microforms, government documents, sound recordings, films, and videotapes. Special Collections contains over 40,000 rare books and 13,000 linear feet of manuscript holdings; much of this primary source material is unique and irreplaceable at any price. Formerly known as Main Library, the building was renamed on May 14, 1988 in honor of the family of Philip Knight, President and CEO of Nike, Inc.
Prior to expansion, the Knight Library consisted of three parts:
The original 1937 building (80,000 sq ft), designed by Ellis F. Lawrence and constructed by the PWA and WPA. The 1937 building and the facing Memorial Quadrangle are listed on the National Register of Historic Places.
1950 addition (57,000 sq ft)
1966 addition (100,000 sq ft)
Since the last addition was made in 1966, collections had grown by more than 40% and seating was largely displaced by shelving for materials. Enrollment at the University increased by a similar margin, exacerbating the seating shortfall. The building's lighting, heating, ventilation, and air conditioning systems were inadequate for preservation of materials and for patron comfort. New information technologies demanded a much more flexible data cabling system than was envisioned in the 1960s. These needs could only be addressed by the addition of new space and significant renovation of the existing facility.
All capital projects at the University of Oregon employ a participative design process. The 19-member Knight Library User Group consisted of students, faculty and staff. The group was appointed by President Paul Olum to develop project goals, select an architectural team, and work with designers throughout the project. In 1988, the University selected TBG Architects and Planners/Inc. (Eugene) as project architects, in association with Shepley Bulfinch Richardson Abbott (Boston) as design consultants.
The User Group identified four major goals for the project:
The need to integrate what was then three separate building components into one functioning library building.
The need to construct as much square footage as possible for reader space and the storage of materials.
The need to create a flexible building able to respond to change and capable of serving its community well into the 21st century.
The importance of developing the building in a way that recognizes its historic and symbolic role on the campus.
Project Schedule
Phase 1 (new construction) began in April, 1991 and was completed in January, 1993. There are four major components:
South Lawn Addition (85,505 sq ft):
Documents and Public Affairs
Microforms
Current Periodicals and Newspapers
general reading and study areas
growth space for collections
seminar and group study rooms
adaptive technology rooms for disabled students
mechanical rooms
structural capacity for three additional floors (60,000 additional square feet)
Rooftop Addition to the 1966 building (29,438 sq ft):
general reading and study areas
growth space for collections
seminar and group study rooms faculty studies
Kincaid Addition (20,195 sq ft):
new Media Services entrance
new Media Services studio equipped as a distance learning classroom for statewide "EdNet" services
Serials Department (Technical Services)
Binding and Preservation units (Technical Services), including Preservation Laboratory
Loading Dock & Shipping Room
mechanical rooms
Phase 2 (Renovation) construction began in March, 1993 and was completed in late Summer 1994. In order to maintain services and access to collections, the renovation was conducted in two stages of approximately nine months each.
Project Budget
The total project was $27.4 million (the 1987 Committee's $25 million project plus an adjustment for inflation). The State of Oregon originally provided $18 million:
State Funds:
1987 Legislature: $780,000 for planning
1989 Legislature: $17,220,000 for construction
In 1990, the State's budget was restructured due to the Measure 5 property tax limitation. This resulted in elimination of $306,000 from the 1989 appropriation, for a revised total State of Oregon budget component of $17,694,000.
Gifts and grants:
The project balance ($9.706 million) was funded from private gifts and corporate and federal grants as top priority of the University's first capital campaign (Campaign for Oregon, 1987).
Student tuition and fees:
No student tuition or fees were used for the expansion and renovation project. The original 1937 building, however, was partially financed by a student fee. More recently (1994-95), income from the educational technology fee enabled construction of the Information Technology Center on the second floor, and ITC operations continue to be supported by the ed tech fee.
Design Features
Seating: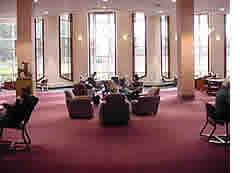 The Knight Library has capacity for more than 2,000 readers, meeting the Oregon University System standard of simultaneous use by at least 15% of enrolled students. The interior furnishings were completely replaced or restored, funded by gifts from alumni, faculty, staff, and friends of the university.
Heating, ventilation, and air conditioning:
In both new and renovated space, the heating, ventilation, and air conditioning (HVAC) system has been engineered to maintain stable and comfortable room temperature and relative humidity (RH) levels. The system enhances both patron comfort and preservation of library materials.
Energy Efficiency:
The building design incorporates an array of passive and active features which reduce energy consumption by 31%. The south reading room windows are energy-efficient with ultraviolet filtering, very effective in providing thermal protection and in cutting glare. Insulation, two-way fans, and computer controls also contribute to to overall efficiency and conservation. The building's energy saving features generated construction credits from the Bonneville Power Administration and recognition by EWEB as an "Energy Smart Design."
Main entrances:
During the first phase of renovation (January - October 1993), the Library's main entrances were temporarily located on the east side of the new south addition, near Pioneer Cemetery. The existing entrances on the north side of the 1937 building provided access to Special Collections only. When this phase of renovation was completed, main building entrances were returned to the north, maintaining and reinforcing the historic and symbolic role of the 1937 building and the Library's relation to the Memorial Quad and major academic buildings.
Public Art:
Through the State's One Percent for Art program, the Knight Library project acquired a diverse selection of original works of art, both integrated (architectural) and moveable (paintings, prints, photographs, and sculpture). For more details, pick up the brochure on Library Art available at the Librarians Office.
Dancers and musicians are also inspired by the Knight Library building, services, and collections. In Spring 1999, choreographer Tracy Malikowski presented a site-specific dance performance responding to the question "What is a library?" In Fall 2002, UO Music Professor Jeffrey Stolet installed an ambient soundscape, The Circle of Knowledge, in the main level vestibules and corridors.
Awards:
The Knight Library Expansion and Renovation Project has received several important awards:
First Place, People's Choice Award
Awarded to TBG Architects and Planners/Inc. and University of Oregon
by the Southwest Oregon Chapter, American Institute of Architects
September 24, 1997
Award of Merit in recognition of a significant contribution to its campus environment
Awarded to the University of Oregon
by the Association of University Architects
June 26, 1997
Energy Edge Award for excellence in energy-efficient design
Awarded to the University of Oregon
by the Eugene Water and Electric Board and Bonneville Power Administration
October, 1994
Excellence in Construction Award, 1994
Category: Remodelling, Renovation and Interior Improvements Over $300,000
Awarded to the University of Oregon
by the Pacific Northwest Chapter, Associated Builders and Contractors
Excellence in Concrete Award (for stone panels in Autzen Circulation Lobby)
awarded to the University of Oregon
by the Oregon Chapter, American Concrete Institute and
Oregon Concrete and Aggregate Producers Association
March 17, 1993
For additional information, please contact the Office of the University Librarian, 113 Knight Library, (541) 346-3056; or the University Planning Office, (541) 346-5562.