Most of our collection is contact prints or film taken from a vertical perspective (pointing straight down so you only see the roof tops of buildings). Our earliest Oregon coverage is from 1929 but the majority of coverage exists for years 1935 to 2011.
Most images were flown for federal, state, county, and municipal agencies such as U.S. Department of Agriculture, Bureau of Land Management, National Forest Service, U.S. Army Corps of Engineers, and Oregon Department of Revenue. We also have two extensive private sector collections: Brubaker Aerial Surveys/Delano Aerial Surveys/Northern Light Studio out of Portland and Western Aerial Contractors/WAC Corp. out of Eugene, Oregon. Scales range from 1:3,680 to 1:80,000. Availability of specific years, scale, altitude, resolution, color, stereo pairs, and time of year varies depending on area of interest. While the majority of our collection is vertical photography, we also have oblique imagery of the Portland area from the 1980's to the late 1990's.
Contact us for detailed coverage information for an area. 
Unique Collections
The University of Oregon Libraries' aerial photograph collection is one of the most extensive covering Oregon because it brings together photography flown for various public agencies and two significant private collections. Some of the highlights are:
1930s Coverage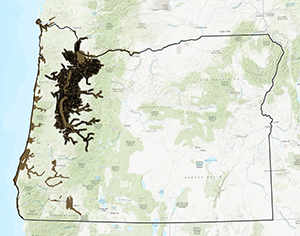 In the 1930s, the US Army flew the Willamette Valley and Coastal areas. This is some of the earliest available aerial photography of these areas.
1940s Coverage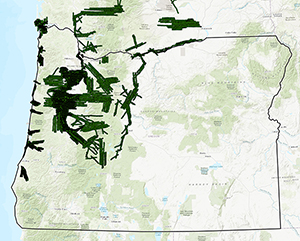 In 1944 and 1945 the US Army flew the Willamette Valley and major rivers. This was the beginning of the U.S. Army Corps of Engineers aerial river surveys.
Brubaker Aerial Surveys/Delano Aerial Surveys/Northern Light Studio
The UO Libraries acquired the film and prints collection of Northern Light Studio, formerly Delano Aerial Surveys, formerly Brubaker Aerial Surveys. These three successive companies were flying aerial photography of Oregon and Washington for around 80 years.  Prints in our collection date back to the 1940s. During the 1980s to the early 2000s, the company flew detailed aerial photography of the Portland area every couple of years.  This gives a unique, detailed inventory of development as it occurred.  We also have extensive oblique (photographed from an angle, that is "bird's-eye" view) photography of the Portland area.
WAC Corp./Western Aerial Contractors
WAC Corp. and it's predecessor Western Aerial Contractors began flying aerial photography out of Eugene, Oregon in the 1950s. When WAC Corp. closed it's warehouse in 2016, the University of Oregon Libraries acquired the existing prints and film for WAC's Oregon and Washington flights. University of California, Santa Barbara's Map and Imagery Laboratory acquired the California portion of the collection.  WAC Corp. flew extensive flights "on spec" in the 1980s and 1990s.  These flights are better resolution than the high altitude and NAPP flights the US government was flying at the time. Because the were flown "on spec" they had been available only by direct purchase from WAC Corp.
1996 Willamette River Flood
WAC Corp. flew first-day and successive coverage of the 1996 Willamette River flood and the UO Libraries are the unique holder of these prints and the original film. In addition, we own many prints of the flood from flights that were flown by the U.S. Army Corps of Engineers. Between these two collections we have good documentation of the extent and duration of flooding during this major event.