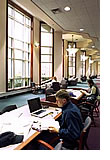 Scope and content
The library, which contains the largest research collection in the state, has over 3 million volumes and subscribes to nearly 17,000 journals. Furthermore, the library has collections of materials in a vast array of languages, including Spanish, French, German, Chinese, Japanese, Korean, Thai, and Russian. In addition to books and academic journals (many of which are available digitally and in print), the library has extensive collections of microforms; slides; maps; manuscripts; compact discs; audio cassettes; phonograph records; DVDs and videotapes; and state, federal, and international government documents.
General collections
Most books and periodicals in Knight Library are housed in our publicly accessible shelves. These materials are arranged by Library of Congress call number on the library's second, third, and fourth floors. Most items in the general collection circulate under regular loan periods. Bound journals are shelved in the general collections and have shortened loan periods. See our borrowing policies for more information.
Special sections and formats
The Knight Library has certain collections located in distinct sections because of the collection's purpose or format. These sections and materials of particular interest are described below.
Main Floor
DVD Collection
Our DVD collection contains over 9,000 titles. A browsing rack of DVD sleeves, categorized by genre, is on the Main Floor in front of the spiral staircase. The collection is broad and diverse, representing feature films from all over the world, animation, short films, documentaries, educational films, and television programs. DVDs may be requested at the Checkout & Reserves Desk.
Government Documents
The Government Documents collection contains publications from the governments of the United States, Canada, Great Britain, the State of Oregon, and cities and counties in Oregon. It also includes some official records of international organizations such as the United Nations and the European Union. Government documents are important source of statistical data, legal and regulatory information, and information about government programs, public policy issues, and international relations. These materials are used by scholars in many disciplines, including business administration, economics, journalism, political science, history, environmental studies, and planning, public policy & management (PPPM). The collection also houses commercially produced indexes and publications that support research into public affairs and governmental activities. Parts of the collection are organized using a different call number system (Federal SuDoc numbers) from the rest of the library. For assistance with Government Documents, please ask at Research Help.
PPPM Terminal Projects
This collection consists of older terminal projects written by graduate students in the Department of Planning, Public Policy and Management (PPPM) or predecessor programs since the 1960s. These projects, which are non-circulating, are shelved by project number in the Knight Library's Document Center. For terminal projects since 2010, use Scholar's Bank.
Maps & Aerial Photography
The Maps & Aerial Photography (MAP) Collection has over 300,000 map sheets; approximately one million aerial photographs; and over 3,000 atlases. The collection includes paper maps of every corner of the world, with special emphasis on Oregon, the Pacific Northwest, North America, and topographic maps of Europe. The aerial photograph collection is primarily of Oregon and has coverage dating back to the 1920s. The MAP Collection also provides access to data for use in geographic information systems (GIS). Most of the maps and atlases are housed in public areas and are available any time the library is open. Our fragile/older maps and atlases plus all of our aerial photograph collection require assistance to use.  For assistance with accessing maps email map@uoregon.edu.
Microforms
The microforms collection houses the library's vast collection of information in microform: microfilm, microfiche, and microprint. It includes the most complete collection of Oregon newspapers available, as well as many other items of historical significance. Users may view, print or scan images from any of the items in this collection. For assistance with the microforms collection, ask at research help.
Second Floor: LC Call Numbers A-GV
Current Periodicals & Newspapers
Current Periodicals contains unbound issues of both popular magazines and academic journals. Current newspapers from Oregon and major cities in the United States and abroad are also available in this area, located on the south end of the second floor in the Quiet Study Area.
Popular Reading
The Popular Reading collection contains recently published fiction, Young Adult (YA) literature, comics & graphic novels, bestsellers, modern cultural touchstones, and more. Popular Reading is located in the Quiet Study Area on the south side of the second floor, next to the Current Periodicals section.
Asian Collection
The Asian Collection covers multiple languages including Chinese, Japanese, Korean, Thai and Vietnamese with a primary focus on East Asian cultural studies. There are over 100,000 titles ranging from arts, history, language, literature and philosophy to political science from ancient to modern times. In addition, there is a collection of Chinese, Japanese and Korean popular reading materials.
Second Floor: North
Special Collections and University Archives
Housed separately from the general collection in the Knight Library, Special Collections includes manuscripts, photographs, University Archives and rare book collections. See the Special Collections and University Archives homepage for details.
Third Floor: LC Call Numbers H-PG
City Directories
A small collection of U.S. business directories can be found in the mezzanine of the third floor. These city directories are shelved alphabetically by city name and include volumes from the early 1900s through the 1970s.
Curriculum Collection
The Curriculum Collection is a research collection of textbooks used in elementary and secondary classrooms, located on the east side of the third floor mezzanine.
Knight Juvenile Collection
Maintained for research on children's literature, the McKnight Juvenile Collection contains books written for the preschool to young adult reader. This collection is located on the east side of the third floor mezzanine.
Music
Located on the third floor, the Music Collection contains music reference materials, scores, books, current and bound periodicals, and composer's collected editions. The Douglass Room contains most of the audio recordings (LPs, compact discs, cassettes, and reel-to-reels) held by the Knight Library.
Oversized Materials
Materials that are too large for the general shelves are shelved in the Oversized section, located on the west side of the third floor mezzanine. Items in our Oversized section have call numbers that start with x (oversized) or xx (extra-oversized). The oversized (L) and extra-oversized (X) Dewey Decimal materials also are shelved in this location.
Fourth Floor: LC Call Numbers PH-Z
Dewey Decimal Call Numbers
Knight Library still retains some books cataloged by the Dewey Decimal classification system, the original cataloging method. The material in this collection is older, as the UO Libraries transitioned to the Library of Congress cataloging system in the 1960s. Call numbers for material housed in the Dewey Decimal collection begin with a number instead of a letter. This collection is located in the northwest corner of the fourth floor.