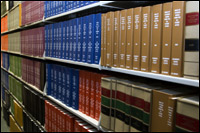 Documents Collection Location: Knight Library, First Floor
Mail: 1299 University of Oregon
Eugene, OR 97403-1299
541-346-3051
The UO Libraries are a U.S. Federal depository library. Electronic government publications can be searched and accessed via LibrarySearch.  See also the Libraries' guide to Government Information. Computers that non-UO affiliated patrons may use are available in Knight Library for searching and accessing government published information.  As a U.S. Federal depository library, our collections and services are open for use by the general public and our staff are available to assist both public and academic users in accessing government information. 
Contact  Kathy Stroud, Government Information Librarian, for assistance with locating online and physical government publication.
Government Documents Collection
The physical Documents Collection is located on the main floor of the Knight Library on the University of Oregon campus in Eugene, Oregon. The government Documents Collection contains publications from the U.S. government, the State of Oregon, and various Oregon city and county governments.  It also contains documents published by Canada, Great Britain, and the European Union. Our online guide will help you navigate resources and provide links for assistance: http://researchguides.uoregon.edu/govinfo.
Users may retrieve items from the Documents Collection for themselves and may use interlibrary loan, to get documents. Staff can provide assistance in locating, understanding and utilizing these collections. 
Data Support 
The UO Libraries is one of the four "coordinating agencies" of Oregon's State Data Center, affiliated with the U.S. Bureau of the Census. In that capacity, we provides assistance to the University and the wider Oregon community in locating, retrieving, and using available statistical data from government sources. 
The Libraries' Data Services group  assists University of Oregon researchers with the organization, management, and curation of data.
Related Government Information Guides