Librarians at the UO are dedicated to providing research support to students, faculty members, and other researchers. From collaborating with faculty members and campus museums to teach undergrads about special collections to creating research guides and video tutorials to support instruction, UO librarians contribute to research in exciting, though sometimes less visible ways. Here, we spotlight several research-based endeavors our librarians have been supporting.   
Choreographing for Opera Students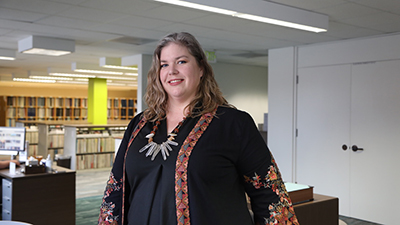 Ann Shaffer is a Music and Dance Librarian and an Instructor of Research Methods in the School of Music and Dance. She recently choreographed a belly dance sequence piece for the UO Opera Ensemble's production of Giacomo Rossini's L'Italiana in Algeri.  
Shaffer began working with the performers in October to ensure she had plenty of time to choreograph and teach the piece before the performance in mid-February. Luckily, her students were so well versed in music, they were able to pick up the tempo and rhythm of this dance form quickly. Before even introducing the choreography, Shaffer spent a lot of time with the performers, teaching and nailing down the technique. Once they understood the flow of this kind of dance form, they started practicing the actual piece for the show.  
During tech week, Shaffer had to make some slight choreography changes due to the stage having platforms and steps that they didn't know about. Up until the last few days of rehearsal, the team worked incredibly hard to ensure it would be perfect. While the time crunch was stressful, she emphasized that this is a typical experience when putting on a production.  
"There's often going to be stuff you haven't planned for with the space or the layout or something. So, I'm glad we were able to actually get into the space and have multiple rehearsals in there," she shared.  
Of the two shows put on, Shaffer attended the Friday evening one. Having never choreographed a piece for a big theatrical show, she loved seeing her contribution alongside so many moving parts.  
"It was just really fun to watch them bring this to life in the context of the whole scene—with the staging, the lighting, and the props," said Shaffer. 
Working with students on this project not only allowed her to see them shine in the performance but, she said, it also gave her a better idea of what students in the School of Music and Dance are involved in. Spending time with them gave Shaffer insight about their areas of interest and let them know that she is readily available as a resource for any current or future research.  
Building Research-Focused Writing Courses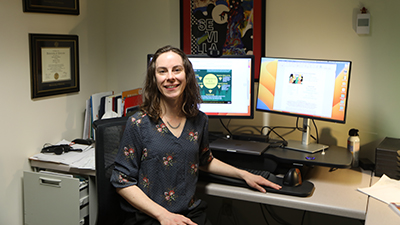 Associate Librarian Bronwen Maxson who coordinates Undergraduate Engagement and Instructional Services has been co-chairing a task force to build online, asynchronous research tools for UO students.  
The state of Oregon recently passed Senate Bill 233, from the 2021 regular session, which calls for higher education systems to adopt common course numbering. At UO, this would impact the curriculum for introductory writing courses such as Writing 122z, causing it to be more research focused than in the past.  
The updated curriculum will go into effect this fall, so Maxson and seven other librarians on the task force are currently working on preparing and curating online tutorials that will teach students in WR 122 how to conduct effective research.  
These tutorials will be multimodal including videos, text, and interactive quizzes. On top of showing students how to navigate the university's library search, these tools will also focus on utilizing Google for domain searches, Google Scholar, and more specialized databases for very specific research.   
Maxson emphasized that these resources will really help students understand and execute every step of the research process.  
"So, it'll be the entire information lifecycle: of finding the information, reading and evaluating it, using it appropriately by citing it or attributing it, and understanding copyright and intercultural property issues, and then using it to do their assignments and hopefully create other kinds of projects," she said.  
The goal of distributing these resources is to improve library and information literacy skills for students, so they can succeed in their writing courses and throughout their academic careers. Because these assets will be provided online, Maxson feels excited that this project will be easily accessible to all students.  
Maxson, her co-chair Rayne Vieger and the librarians on the task force—some of whom are focused on creating content and others who are acting as internal consultants—are working hard to ensure these materials will be ready to implement into courses by fall term 2023.  
Using Japanese Art To Immerse Students in History and Culture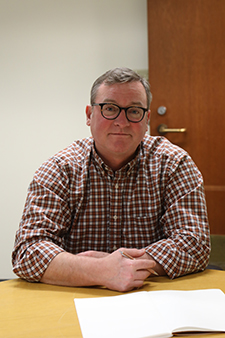 The UO Libraries has a vast collection of nōsatsu, a kind of Japanese woodblock print—one of the biggest collections in the world at a public university. Kevin McDowell, Japanese Studies Librarian, has been showcasing these works of art to students since 2018.  
Almost every term, a Japanese Studies class visits the Special Collections and University Archives (SCUA) in Knight Library to view the various prints that McDowell and the class's professor have selected for viewing. To immerse students in the time period they are studying, he and the professor work as a team to pull pieces that exemplify course themes and ideas. 
"The themes of the prints in the collection are rich in variety and convey a sense of the tastes and pastimes of the period they were created in," McDowell said.  
This spring, students from JPN: 410 'The Culture of Play in Early Modern Japan' are coming to SCUA to experience this incredible art form for themselves. 
When students come to observe the art, McDowell provides them with a short talk on woodblock prints and their significance throughout Japanese history, explaining how these posters evolved from being pasted on temples and shrines to later being exchanged and commissioned by artists. On top of offering some historical context, McDowell is a resource for students to ask any sort of questions they may have.  
Typically, this visit is an opportunity for students to celebrate and become acquainted with an aspect of early modern Japanese culture. But sometimes professors do have students complete a related assignment, either in the form of writing or art. In fact, one year, a professor had their students design their own personal woodblock print.  
McDowell has been studying this subject for many years, yet he is always learning something new. In fact, he credits some of that knowledge to the curiosity of students and their ability to point out certain elements of a print he hasn't noticed before. 
"Students have these really interesting questions and a lot of the time I have to go back and do some research and get back to them. I'm definitely learning all the time," he shared.  
Along with presenting these prints to students, McDowell has worked with colleagues in the Digital Scholarship Services Department and Special Collections to make more than 9,000 of these images available digitally. Currently, they are all in the OregonDigital repository, so they can be accessed, utilized, and enjoyed by students, faculty, and community members. Two students have used the collection to complete their master's thesis project: Artistic and Religious Aspects of Nōsatsu (Senjafuda) by Mayumi Steinmetz and Printed, Pasted, Traded: Nōsatsu as an Invented Tradition by Kumiko McDowell.  
By Kate Lloyd, communications assistant, UO Libraries