Come see how student curators have transformed historic phone booths in Knight Library
Three historic phone booths have been given a new purpose as Tiny Galleries in Knight Library! The galleries are meant to enhance and revitalize the front entrance halls of Knight Library. UO Libraries invited proposals for installations that showcased creative and engaging projects, transforming the phone booths into immersive or interactive experiences.
"This project provided opportunities for UO students to reflect on and apply what they are learning, engage more deeply with the broader campus community, and contribute to academic discourse," said Director of Access Services David Ketchum.
Students each received a $1,500 award. Come see the winning students' exhibits during the library's open hours. You'll find the booths in the east and west vestibules near the north entrances.
The three winning exhibits are:
"A Whimsical Dystopia" by Olivia Crooker, Sociology
"Weaving Resistance: Traditional Arts and Artesanías of the Kamëntsá" by Rowan Glass, Anthropology
"Amplifying Ukrainian Voices" by Iryna Stavynska, Folklore
When asked to reflect on their experiences with the Tiny Galleries project, the three students shared some thoughts about what the experience has been like for them and what they'd like viewers to take away from having seen their gallery.
Olivia Crooker said, "I was nervous about presenting my work in such a public space. I'm usually shy when discussing my work, but I'm proud of my work and the experience I gained from this project. It was an exercise in observation, and I hope that you enjoy observing my personal collection of beautiful objects and ugly trash."
She hopes that viewers will "begin to notice things are not where they once were. Just as human activity is constantly changing our natural landscape, the installation is slowly changing and becoming less recognizable as an ecosystem and more like an archive of human activity. Additionally, I hope my work can influence people to slow down and pay attention to the little things we often take for granted in life—small relics of the past, natural ecosystems, fallen flowers, and the buzzing of the honey bees—as much as possible."
Rowan Glass shared that he is "very appreciative of the unique opportunity to communicate my research and educate the UO and Eugene community about the works and lives of my Kamëntsá collaborators in the Sibundoy Valley of Colombia." Glass designed his gallery in conjunction with one of his closest Kamëntsá collaborators in Columbia, where he did his fieldwork. "It was a pleasure and an honor to design and implement an exhibit with her input using the artifacts and handicrafts collected over two months of fieldwork in the valley," he said.
"One core idea that I would like viewers to take from my exhibit is that Kamëntsá culture is deeply relational; the Kamëntsá live in relationship with the natural world and conceive of themselves not as separate from it but as just another of its manifestations," said Glass. "What I want viewers to take away from this example of a profoundly relational existence is the understanding that this is another [possibility] for our own society, a vibrant and viable alternative to our own ways of being in the world, and a possible bridge over the deep divide that separates people from nature in globally mainstream societies built on the Western capitalist model," Glass added.
Iryna Stavynska said, "I think that the opening of the exhibit was one of the most important and the most exciting days I had at the UO. Creating such a tangible representation of my research and turning it into a platform for talking about Ukraine and Ukrainian voices that were silenced for centuries felt so very important and empowering." She would like viewers to see that Ukraine is "a very unique and vibrant culture, which doesn't need to be defined in relation to Russia or the USSR (in fact, Kyiv is several centuries older than Moscow). And that you can experience Ukrainian culture right here, in Oregon, through the works of many talented Ukrainian folk artists who call Oregon home."
Learn more about the student work in the Student Curator Statements below.
The Tiny Galleries project is funded by the UO Libraries Innovation Grants program, which is designed to broadly empower personnel across the libraries to enact desired changes with the support of formal award recognition. Many thanks to the UO Libraries team behind this innovation:
David Ketchum, Director of Access Services
Kate Smith, Assistant Director of Access Services
Franny Gaede, Director of Digital Scholarship Services
Doug Hodson, Maintenance Labor Coordinator
Dean Walton, Lorry I. Lokey Science & Technology Outreach Librarian
STUDENT CURATOR STATEMENTS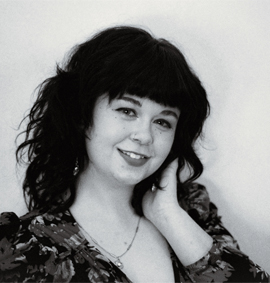 Exhibit Title: A Whimsical Dystopia
Curator: Olivia Crooker, Sociology
Tiny Gallery 111
Description: My exhibition highlights the nature of the Willamette Valley, specifically the diverse fungi and plant lives. I've lived in Oregon for 5 years and I've learned so much about the unique biosphere through my hobby of finding dead bugs and preserving plants, animal and insect remains. I currently make tiny worlds on a small scale and encapsulate them inside glass jars, this project allows me to do something similar, while using skills I've acquired as a multimedia student and the knowledge I've gathered in geology, anthropology, and horticulture. Additionally, I would like to bring a larger awareness to the UO student body of the environmental costs that are a result of the high rates of consumer consumption. Fast fashion and single-use goods are 2 of the biggest contributors to landfill waste in the United States and something that most of us use in our daily lives. ITo achieve both of these creative objectives I use recycled materials, old clothing, and organic materials in my exhibition, which contains a holographic element to it. I'm inspired by the works of Guerra de la Paz who makes sculptural exhibitions out of assorted clothing. I'm drawn to the whimsical nature of their installations, but the reality of their origins is grimmer, since they are creating massive sculptures with clothing that would otherwise be in a landfill. I want this tiny space to feel very immersive, with a lot of little things to look at, be alone with.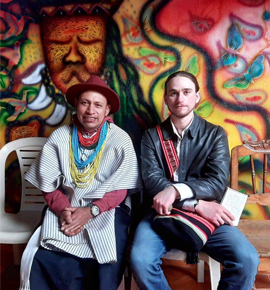 Exhibit Title: Weaving Resistance: Traditional Arts and Artesanías of the Kamëntsá
Curator: Rowan Glass, Anthropology
Tiny Gallery 112
Description: My Tiny Galleries exhibition builds on ethnographic summer field research I conducted with the Kamëntsá, an Indigenous community in the Sibundoy Valley of southwest Colombia. My research, conducted through the McNair Scholars Program and the Anthropology Honors Program, investigates the interdependent relationship between Kamëntsá social movements for territorial autonomy (e.g., land rights, expansion of reservations, resistance to extractive development projects) and expressions of cultural autonomy (e.g., traditional arts and handicrafts, dance, music, and the preservation of the Kamëntsá language). I conduct my fieldwork in the Sibundoy Valley in collaboration with local families, including several artisans' collectives (two of them comprised solely of women) and music groups. As I take an engaged, activist approach in my anthropological research, one major goal of my project is to call attention to social issues facing the community while collaboratively supporting local producers, particularly in the sphere of traditional arts and handicrafts (collectively referred to in Spanish as artesanías). A Tiny Galleries exhibition seems an ideal way to do just that, highlighting issues of concern to the community, providing a space to showcase the work of local artisans, and supporting them economically through purchasing their art to put on display in the Knight Library. When I proposed this idea to the artisans I work with—including weavers, beadworkers, wood carvers, and instrument makers—all were interested in and excited about the prospect. As far as my research goes, this is an exercise in activist anthropology, but for the community I work with I believe the significance of such an exhibition extends much further, bringing their culture and their resistance to the attention of people who would never know about them otherwise. My exhibition combines Kamëntsá arts and artesanías of various types (textiles, wood carvings—notably including their famous masks—beadwork and musical instruments) with informational placards contextualizing these pieces and relating them to social and environmental problems facing the Kamëntsá community. I use one wall for the display of each category of artesanías, with each piece accompanied by a placard contextualizing it, crediting its artisan/artist, and written in English, Spanish, and Kamëntsá. Placards additionally incorporate selected photographs highlighting salient themes from my fieldwork (e.g., street art communicating a message of Indigenous resistance). An audio element involving Kamëntsá music, one of the main forms of cultural expression in the community, is a collaborative venture with my Kamëntsá musician friends.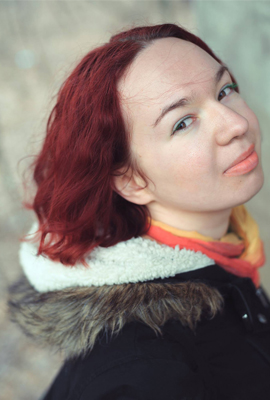 Exhibit Title: Amplifying Ukrainian Voices
Curator: Iryna Stavynska, Folklore
Tiny Gallery 104
Description: The purpose of this exhibit is to introduce UO students and other visitors to the living Ukrainian heritage in Oregon, as well offer a glimpse of what Ukraine, Ukrainian culture and history includes more broadly. This summer I interned at Oregon Folklife Network (located in the Knight Library), and my research focus has been on finding and interviewing traditional Ukrainian artists in the state. This is a continuation of my research on Ukrainian folklore that I have been carrying out in previous terms, and it's also directly connected to my degree (Folklore studies) and my desired career path, which relates to arts management, heritage, and museum studies. Showing work and stories of Ukrainian folk artists in Oregon provides a chance to both showcase Ukrainian centuries-old heritage, and at the same time, think about the current moment and demonstrate the strength of Ukrainians in their (our) current fight for freedom and independence. All of these Ukrainian artists are actively doing their part in supporting Ukraine, even being thousands of miles away from their homeland. Historically, Ukrainian culture has been consistently oppressed. Since the 17th century, the Russian empire, then the USSR, and now the Russian federation has been issuing bans of Ukrainian language, prohibiting the practice of Ukrainian culture, and persecuting and murdering Ukrainian authors and artists. Despite all of this—and even in the face of the current Russian invasion—Ukrainians persevered and managed to preserve a big part of their culture. At the same time, many of us have also internalized this oppression and got accustomed to the idea that Ukrainian culture isn't valuable and should not be displayed publicly. However, in our resistance, we are rediscovering our heritage and learning to be proud of our traditions, art, and language, and finding the courage to show it to the world. And as is becoming apparent with Oregon's Ukrainian artists, Ukrainian culture is not only becoming a source of hope and wisdom for people in a very dark time, but it is also used as a driving tool for activism, with the arts' facilitating various fundraisers that directly support the people affected by the war. Because of this history of the internalized oppression and the learned silence and because Ukrainian culture is so understudied, I think it is exceedingly important to exhibit Ukrainian culture at such venues as the Library's exhibits. This will not only introduce various visitors to Ukrainian culture and history, but also will send a message to local Ukrainians that their voices are heard and recognized.
—By Kate Conley, UO Libraries Communications