The UO Libraries has extensive GIS and mapping resources for UO users.  This page focuses on resources related to the Portland Metro and Greater Portland area, since these are important to UO users in Portland.
UO Libraries academic workstations are equipped with ArcGIS software to read and analyze datasets. UO students and faculty can also download and install the full ESRI/ArcGIS Suite on their home or office computers. Visit the Service Portal for ArcGIS installation and configuration details. Off-campus users: The UO VPN client is required! If you are not connected to UO Secure wireless or using a desktop on campus the software will be unable to verify your license and will not operate. Every time you use ArcGIS Desktop off-campus you MUST connect via the UO VPN.
General Map Information
The UO Map Library gives great suggestions for finding maps, GIS, and aerial photographs on Digital Maps & Mapping.
Locate additional GIS resources and help in the UO Library GIS Guide.
For more information and assistance, please contact the Map Library or the Cartographic and Spatial Data Librarian at (541) 346-3051.
Portland Data Sets
Data sets available on the UO servers include the Portland Metro area and greater Portland area. These sets can be accessed from any Library computer, by following these instructions.
The City of Portland offers a variety of maps and data sets.  The direct link to their page of free, downloadable data sets is here. 
Metro provides maps and data covering Multnomah, Clackamas, and Washington Counties.
If you are new to using ArcGIS software, you may wish to use some online tutorials.  One good tutorial is provided by the Pennsylvania  Data Access. Our own tutorials cover the following topics for ArcGIS 10.1:
Formatting & labeling feature layers
Exporting to AutoCAD and Illustrator
Portland Maps
The UO MAPS and GIS Library has large collections of paper maps of the Portland area.  Not all maps in the collection are cataloged, so it's best to contact the map librarian, Kathy Stroud, to find out if we have what you're looking for.  Some (but not all) maps can be sent to Portland for UO users.
To find Portland-area maps in the catalog:  use call numbers or search words.
Try a subject search for Portland (Or.) -- Maps.
You can limit your search by choosing "Maps & Atlases" from the drop down menu, instead of "Entire Collection."
Maps of Oregon can be found in the call number range G4290 to G4299. City maps of Portland generally begin with G4291.P.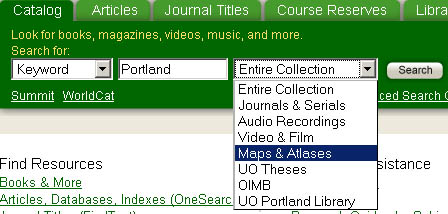 More Resources