The "Student Spotlight" feature highlights the contributions our UO Libraries' student employees make every day. There are more than 160 of them contributing to our endeavors this year alone! Read on to meet just some of our students who help make UO Libraries an amazing place to research, study, and learn. In addition to meeting these three stellar students, you'll also be reading pieces written by two other student employees.
Adedayo "Dee" Akinbosade Celebrates the Law Library Community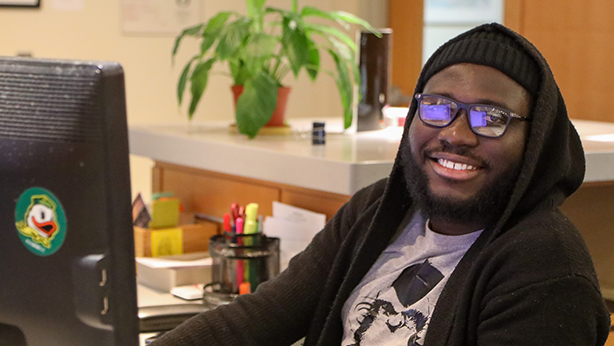 Dee is a third-year Juris Doctor law student working at the John E. Jaqua Law Library. He has been an employee there since 2018 when he started his Master of Law degree program. He was eager to work at the Law library because he felt it would give him an opportunity to interact with students in the same field.
As a new student from Nigeria, Dee wanted to enter an environment where he felt connected to those around him.
"I love interacting with people and meeting new people. Working at the law library front desk gave me an opportunity to do that," he shared.
Mainly assisting students in navigating the building and locating books, Dee also removes books from old shelves, scans books received from Knight Library, sends emails, and staffs the front desk. Dee shared that his job duties often overlap with his studies.
His biggest takeaway from working in this position is understanding that people express emotions and needs differently. This job has taught Dee to be patient with people and always express kindness. He has learned that there are many factors that influence someone's approach to a conversation.
Dee went on to say, "The law library is a community, it's like one big family, and I know I can always count on them."
—By Mona El-Haddar, communications assistant, UO Libraries
 
Olivia Crooker—It's Dreamy Working in the DREAM Lab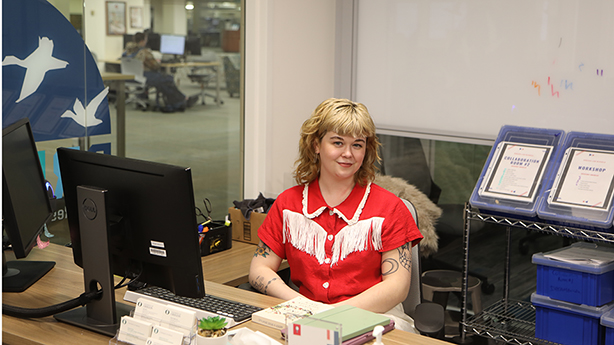 Olivia Crooker, currently a senior in her last term of her undergraduate program, works in the DREAM Lab and as a digital service assistant in Knight Library. In the DREAM LAB, she helps put on video conferences, writes blogs posts, and has even produced a few technical instructional manuals for the technology in the lab. As for archiving and digitizing, Olivia helps scan and send documents requested by students or faculty at the UO, people in the community, or users at other universities.
Olivia has always appreciated libraries. When she was a freshman, she knew she wanted to get an on-campus job at one. When she saw the application for her current position, the job requirements and the environment really spoke to her, so she knew she had to apply. She has been working at the Knight Library for almost three years now.
The experience Olivia has gained in digital archiving and her exposure to special collections has inspired her to pursue this work as a career.
"One of my goals is to one day work in special collections at a university archive in a library," she said.
On top of enjoying the actual work she does, Olivia also loves her job because of the community it has connected her to. She really enjoys working with her co-workers when digitizing documents and getting to hang out with the data science students in the DREAM lab. "My favorite part [of working at the library] is having a community and a workplace that I enjoy coming to and has resources for me."
On top of Olivia's passion for libraries and archival work, she is also interested in art. She has her own tiny gallery booth titled "A Whimsical Dystopia" on display at the Knight Library. The exhibit is an ode to her favorite place on campus, The Urban Farm. A lot of the supplies and materials used to create this piece were actually collected from the farm. Next time you're in the Knight Library check out Olivia's booth in Tiny Gallery 111 in the northwest lobby near the administration suite.
—By Kate Lloyd, communications assistant, UO Libraries
Natalie Dulansky Keeps Creativity Flowing in UO Libraries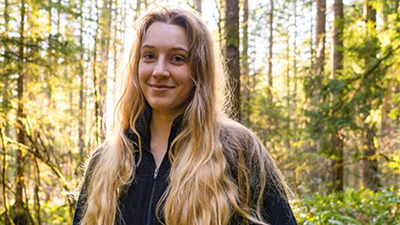 Meet Natalie Dulansky, a graduate student in the Master of Advertising and Brand Responsibility program in the School of Journalism and Communication.
Last year, as a student employee, Natalie had the opportunity to create an installation in the Price Science Commons and Research Library that highlighted women in STEM. That experience gave her the confidence to apply for her job in the communications department for UO Libraries, mainly handling graphic and web design, photography, and creating posts for social media. Natalie expressed that there are new projects available regularly, which allows for growth in different areas of communication.
"My favorite part of the job is having the ability to be creative. I made a set of Instagram posts for Native American Heritage Month. It was a fun project to research and have the opportunity to create graphics for," said Natalie.
Natalie appreciates the dynamic of her job.
"I would say it's collaborative. I like that I'm free to speak with the people I work with about what I'm interested in and do projects based on that," she shared.
Natalie's biggest project was to create a digital version of a physical exhibition called "Our Impact Through Images." She had to learn how to use the website platform WordPress to create the online exhibition.
"I'm interested in learning how to create accessible websites, and that has been a big learning curve. Working on the digital exhibits allowed me to experiment with WordPress. I'm excited to see it live because I worked on this project for a few months."
—By Mona El-Haddar, communications assistant, UO Libraries
Without the generous support of our kind donors, UO Libraries would not be able to employ so many wonderful students. Thanks to these funds established by friends and alumni who support students' professional development:
Arlington Library Intern
Dunbar Student Employee Endowment
Mimi Vollstedt Library Student Internship
Poston Math Library Student Employment Endowment
Scharpf Library Student Endowment
Sparks Student Employee Fund
Steinke Student Employee Fund
Thomas Intern Fund