The UO Libraries' collection just got even bigger! 
By joining the Big Ten, the University of Oregon's community will gain broader access to more than a quarter of published knowledge in the United States. Although the partnership doesn't officially take effect until August 2024, UO Libraries is already engaged in planning for a large expansion in access to resources and services through membership in the Big Ten Academic Alliance Library.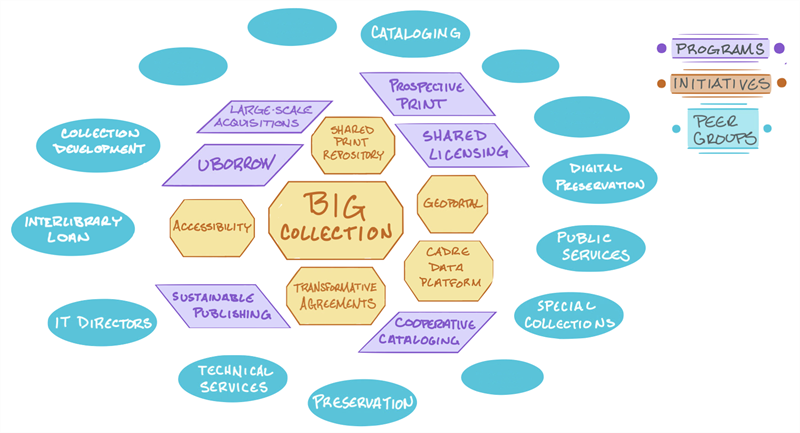 Through collective negotiating under the umbrella of the "Big Collection", Big Ten alliance libraries have access to scores of major databases and electronic resources at lower-than-average costs. The allied libraries also share their print collections directly with one another through a rapid courier delivery network and reciprocal borrowing agreements. 
"This move will vastly expand our university community's depth of access to academic resources in a wide range of disciplines, as well as ease and speed of access to those resources," said Vice Provost and University Librarian Alicia Salaz.
The University of Oregon Libraries already belongs to many resource-sharing consortia that enable the exchange of materials across libraries for the mutual benefit of their users; however, joining the Big Ten will considerably expand the scale of those opportunities. 
While the value for investment is very strong, the move still represents new costs for UO Libraries. The UO Administration has pledged central financial support to make it happen.
"Participating in the Big Ten Academic Alliance's Big Collection is a powerful way for the University of Oregon to contribute to the collective good, while greatly expanding access to a wealth of print and digital library resources for our faculty members and students," said UO President Karl Scholz. "The benefits of collaborating with our future Big Ten peers are many including creating even more access, equity, sustainability, and efficiency in our library collections."
Learn more about the UO's joining the BIG Ten.
Learn more about the Academic Alliance's vision.
—Kate Conley, communications specialist, UO Libraries