Congratulations to Hannah Gershone (MS '23, Env Studies), who was accepted to Simmons University's Master of Library and information science program and received the Society of American Archivists' (SAA) Josephine Forman Scholarship! It will pay her tuition for the two-year program and fund her in a full-time position with benefits in the Simmons Library.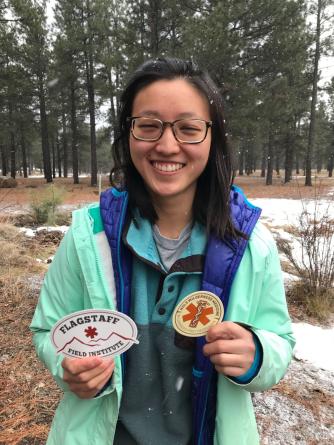 Public Scholarship Librarian/Associate Librarian Kate Thornhill sat on Gershone's thesis advisory committee and helped Gershone with her research on social and environmental justice, digital storytelling, and archives for public scholarship research projects such as the Adoptee Literary and Art Archive and Abstractions: The Messy Entanglements Between Carceral Geographies, Wilderness, and Poetry.
Thornhill, who earned her own master's degree in library and information science with emphasis on digital archives and arts and humanities research data management from Simmons in 2013, said, "Hannah has been a joy to learn from, mentor, and coach around what it takes to develop and manage a digital collection, develop community-centered public scholarship projects, and move into the professional direction of becoming an archives curator who supports post-custodial approaches to building and maintaining memory spaces."
While at Simmons University, Gershone plans to pursue ways for "archival institutions to advocate for robust documentation and preservation of governmental response to climate change," according to SAA's announcement.
Environmental justice and recordkeeping are particularly important to Gershone because, as she noted in her application essay, "Black, Indigenous, and communities of color are often on the frontlines of climate change, bearing the brunt of environmental oppression." 
Thornhill, in her letter of recommendation for Gershone, said, "She has an incredible spark and motivation to become part of the professional library and information science community by finding intersections for how it can contribute to social and environmental equity efforts in the United States."
Thornhill shared that Gershone is "going to be making beautiful waves within our profession!"
The SAA Awards Committee "found Gershone's work at the intersection of community memory, environmental justice, and ethnic studies commendable and forward-looking," according to their announcement.
Learn more about Gershone's achievements and future plans in SAA's announcement.