During the Undergraduate Research Symposium on May 25, students from all disciplines, and majors, and even non-UO institutions, came together on UO's Eugene campus to share the research projects that ignite their passion.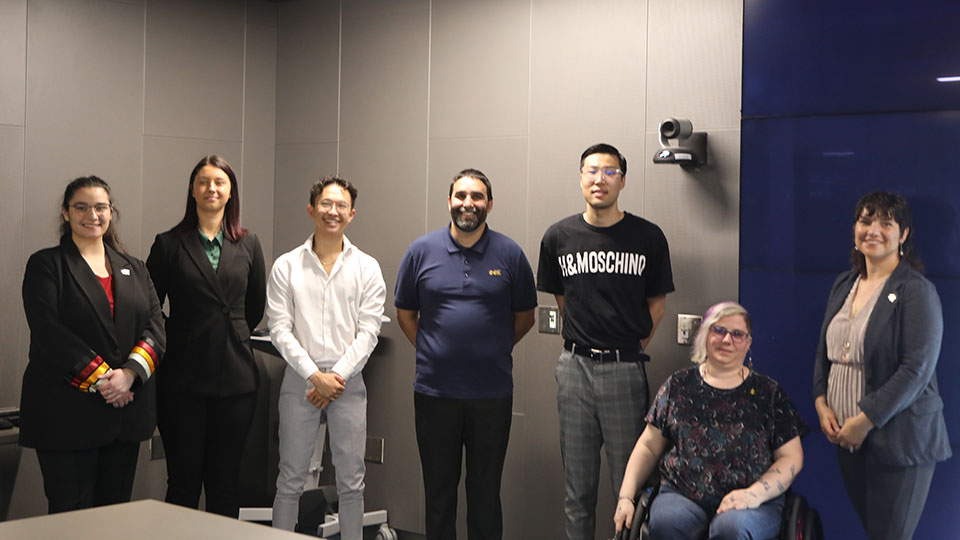 This year, the Allan Price Science Commons and Research Library (PSC) hosted the inaugural lightning-round presentations of "Works in Progress" during the symposium.
Undergraduate students from the UO, Lane Community College (LCC), and Southern Oregon University (SOU) came together in the PSC's Visualization Lab to share their research projects in seven-minute summaries, explaining where they are so far and where they hope to take their work.
SOU student McKayla Dumore kindly started the session with the land acknowledgement from her university, representing the tribes of Southern Oregon, broadening audience members' knowledge of the diverse Oregon tribes.
The goal of these lightning rounds is to provide students with the opportunity to gain skills presenting their research ideas and work progress succinctly in a low-risk environment. The audience includes their peers, faculty advisors, subject librarians, and other interested parties. Presenters also get practice answering questions from the audience, which can spark new ideas—or maybe even new directions—for their research.
"We weren't sure this venue would be popular with non-UO students, yet we had three students from Southern Oregon University and three from Lane Community College. The participation exceeded our expectations! Students were confident, professional, and succinctly presented their ideas. They embraced the format and really liked using the VizLab's large wall screen. During the Q&A, students engaged each other about some of the challenges they face during the research process. It was very exciting to see them share and compare experiences," said Nancy Cunningham, director of UO's branch libraries and steering committee member of the Undergraduate Research Symposium.
Created as a barrier-free on ramp for all students to develop research projects, especially those in community colleges, "Works in Progress: Lightning Rounds" is intended for students just getting started with their research projects who have not yet completed the data collection and analysis phases. This format helps to strengthen the partnership with Lane Community College faculty, the UO's Undergraduate Research Symposium, and the UO Libraries.
Students' topics were wide ranging and included:
From Lane Community College:
The Impact of Personal Identity on Students' Attitudes Toward Learning as "Failure" and/or "Play" by Isaiah Contreras, Shoichiro Kamata, and Scooter Milne
From Southern Oregon University:
"Indigenous Pedagogy in Action at Southern Oregon University" by McKayla Dumore

"A Systematic Review on Collaborative Ecosystem Restoration in the U.S. by Tribal and non-Tribal Partners" by Amanda Rose

"Native Hawaiian Identity and Expression Through Poetry" by Ellie Trahern
From University of Oregon:
"Proteomic Signatures of Reinjury in Tibial Bone Stress Injury" by Ethan Dinh
Students interested in presenting in 2024 can visit the Works in Progress webpage to learn more.
—Kate Conley, communications specialist, UO Libraries